In 2020, the 'Weaving Futures' project provided fifteen artists with an opportunity to expand their practices through the lens of tapestry design. Nurturing creativity during a challenging time – the project disseminated skills and knowledge through different mediums and across generations.
'Weaving Futures' is generously supported by the Playking Foundation and Creative Victoria.
Kay Abude
'MAY YOU LIVE IN INTERESTING TIMES', 2020, designed by Kay Abude for the 'Weaving Futures' project at the ATW. Design courtesy of the artist.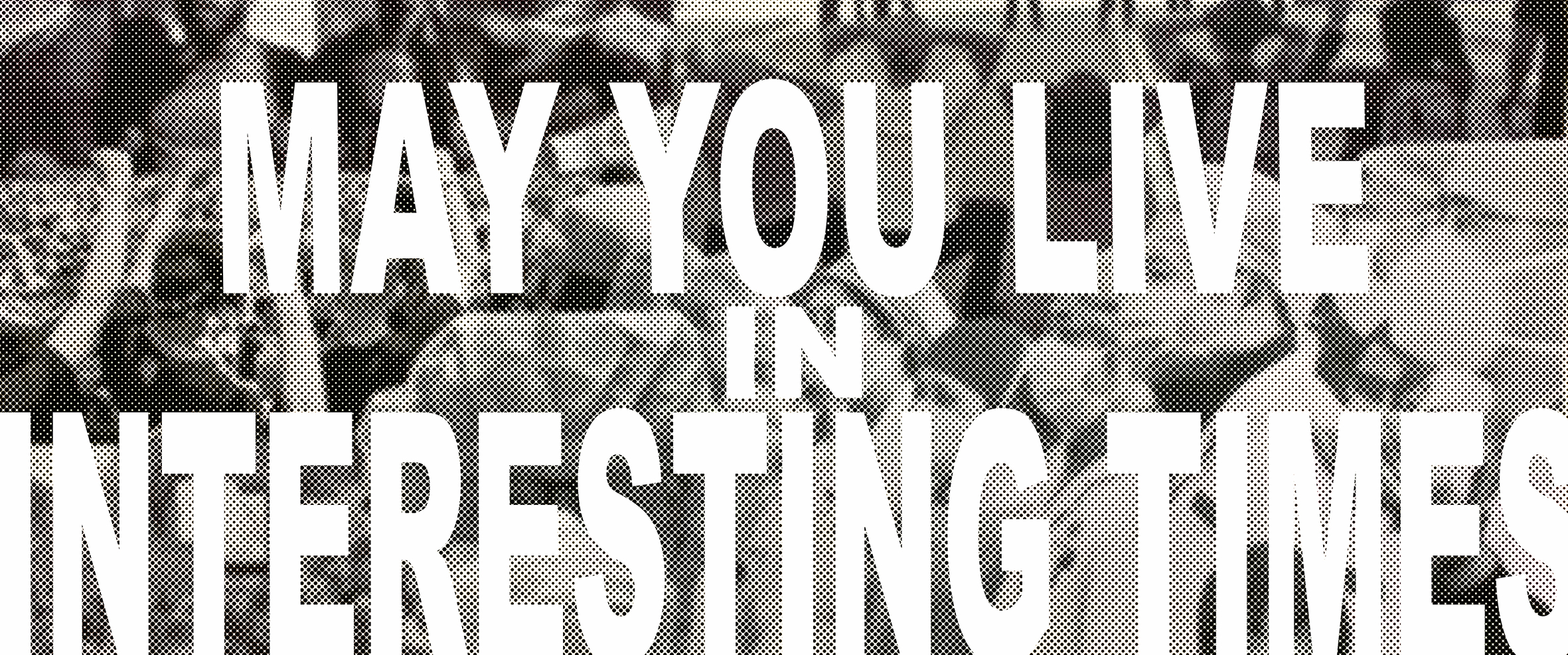 MAY YOU LIVE IN INTERESTING TIMES, 2020, Kay Abude.
"'May you live in interesting times' is an English expression first used by Sir Austen Chamberlain in 1936. It was later popularised by Robert F Kennedy in a speech he made in 1966. The phrase 'live in interesting times' dates at least to the late 19th century. People believe it to be a Chinese curse but the element of a curse was likely added by Sir Chamberlain as an effective embellishment. There is no evidence of a Chinese origin.
"It is not so long ago that a member of the Diplomatic Body in London, who had spent some years of his service in China, told me that there was a Chinese curse which took the form of saying, 'May you live in interesting times.' There is no doubt that the curse has fallen on us." ~ speech by Sir Chamberlain in March 1936.
My tapestry design is a response to the tumultuous first year of a new decade – the 2020s. An unusual chapter in history, it is the most interesting of times, that we find ourselves currently living in.
Kay Abude engages many different forms of making, including sculpture, large-scale installation, performance, photography and silk-screen printing. Abude is fascinated with the nature of labour, with its economic, repetitive and somatic properties, and how work connects and separates us, taking so much of our time that it comes to define our lives."
Atong Atem
Self Portrait in July (4), 2020, Atong Atem.
"In working on something that will be translated into tapestry, the history of wax print fabrics, which I often use in my works, was my immediate starting point. In thinking about my relationship to wax print fabrics that were introduced to West Africa via Indonesia by Dutch colonisers, I find that my relationship to those fabrics in my self-portraiture leans to the performative. I felt more honest exploring my relationship to a kitsch, mid-century aesthetic, and the performance of femininity and beauty through that framework. The final works I made were in response to an instinctive policing of my own aesthetic and desire in order to fit neatly within the pre-existing narratives surrounding black contemporary artists and their work."
Atong Atem is an Ethiopian born, South Sudanese artist and writer living in Melbourne. Atem interrogates photography as a framework for looking at the world and positioning people in it. She works primarily with photography and video to explore migrant narratives and postcolonial practices in the African diaspora, the relationship between public and private spaces and the exploration of home and identity through portraiture.
'Self Portrait in July (4)', 2020, designed by Atong Atem for the 'Weaving Futures' project at the ATW.. Design courtesy of the artist.
John Bates
'Untitled', 2017, designed by John Bates for the 'Weaving Futures' project at the ATW. Design courtesy of the artist.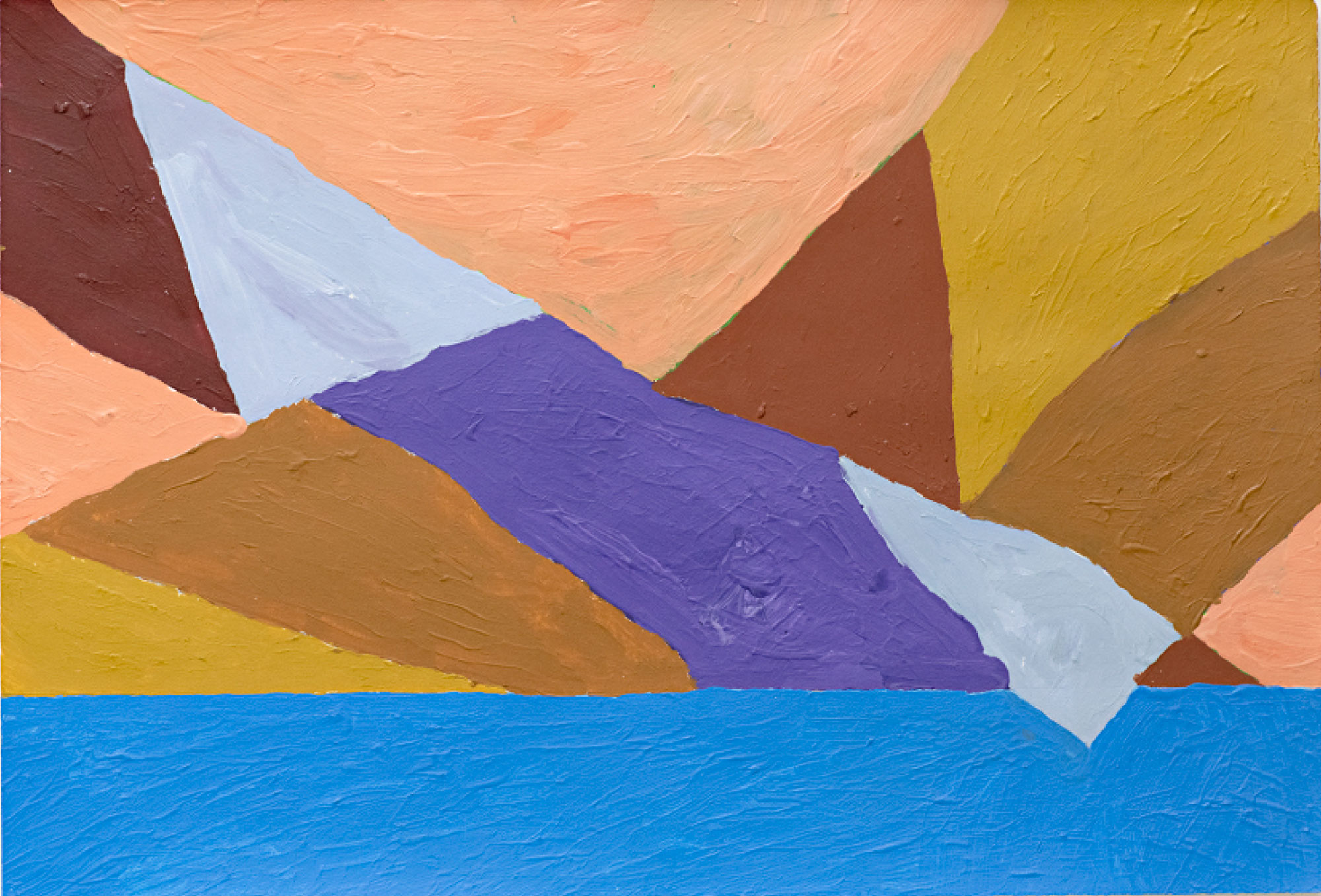 Untitled, 2017, John Bates.
For this design Bates created a striking, delineated landscape composition, that is characterised by flat planes and vivid colour. Through the use of a minimal palette, emphasising the two-dimensional surface, the work plays with ordinary perceptions of landscapes and seascapes. Bates' process involves creating a dense surface through repeated application of acrylic colour.
John Bates is an established landscape painter living and working in Melbourne. Bates has worked in the Arts Project studio since 1990 and has exhibited widely, nationally and internationally.
Eric Bridgeman
99/Nite Nite #2, 2020, Eric Bridgeman.
The process for the selection of pastel drawings that Bridgeman produced for the 'Weaving Futures' project began in hotel quarantine in September, 2020. Bridgeman's drawing and painting practice centres primarily around traditional shield markings belonging to his tribe, Yuri Alaiku, and the greater Waghi region of Papua New Guinea. This body of work will eventually result in 99 designs/works on paper. Bridgeman has chosen to represent the "korai" (men's cloth) used for ceremony, commonly decorated with fine black and white stripes, draping the lower body from waist to toe. The line drawings are both korai and shield design, two highly important items used in Yuri men's practice, signalling protection, kinship, and hyper-positivity.
Eric Bridgeman is a multi-disciplinary artist based in Brisbane and Papua New Guinea. His work takes the form of photographic portraiture, video, performance, sculpture, installation, drawing, painting, and a combination of all. The dominant focus of his photographic work involves the discussion of social-cultural issues.
'99/Nite Nite' 2020, designed by Eric Bridgeman for the 'Weaving Futures' project at the ATW. Design courtesy of the artist.
https://austapestry.com.au/block/weaving-futures/edit?destination=whats-on/outreach/weavingfutures#
'Surrounding the Cactus', 2020, designed by Dadang Christanto for the 'Weaving Futures' project at the ATW. Design courtesy of the artist.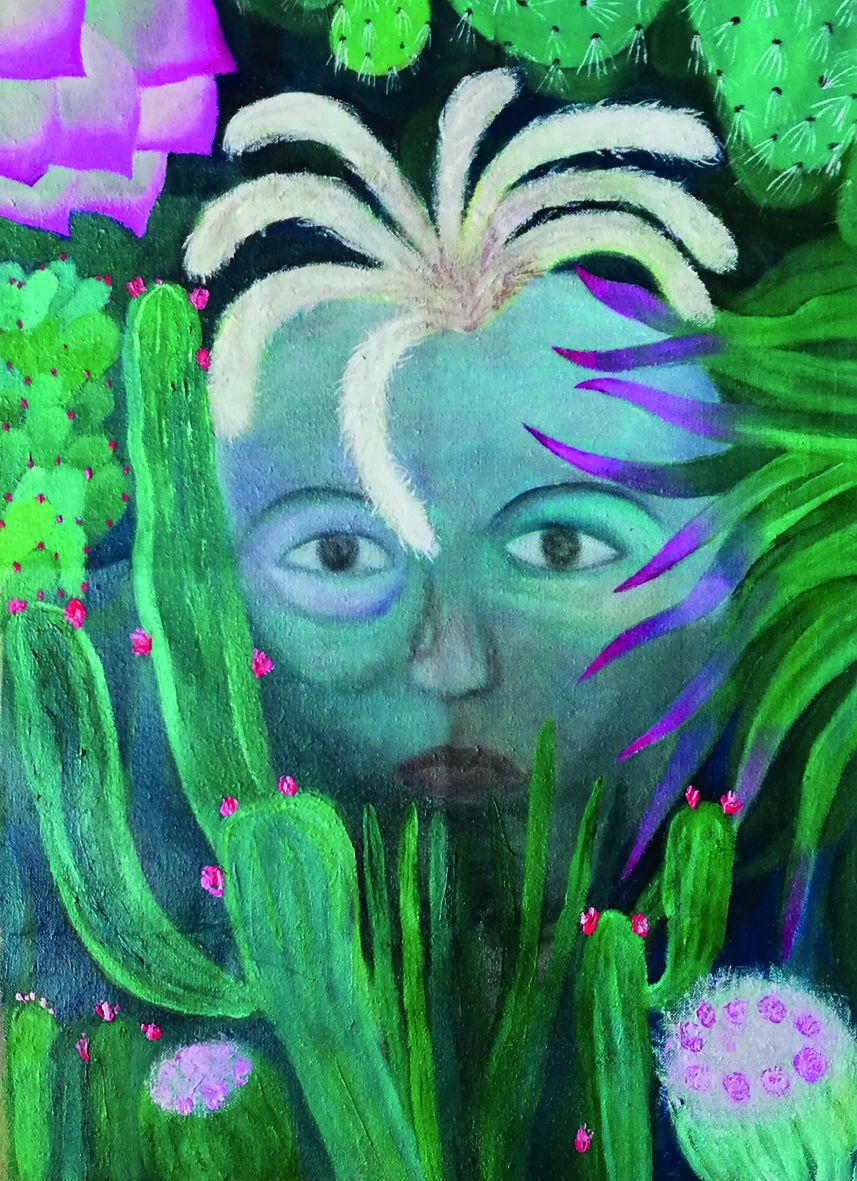 Dadang Christanto
Surrounding the Cactus, 2020, Dadang Christanto.
Christanto was born and grew up in Java, the largest island in Indonesia. In this tropical environment, cactus and succulents were not familiar to the landscape and only ever seen at the cinema or on tv. When he first arrived in Australia, Dadang visited Sydney Botanical Gardens and saw these unusual plants for the very first time. Now where he lives, near the Northern Rivers region in NSW, cactus gardens are commonplace. While the forms and colours are beautiful, to Dadang they represent a dichotomy of beauty and horror, much like the Indonesian archipelago - a beautiful place, but one which conceals its dark history and the genocide of 1965-66. This tapestry design embodies this tension. Figures are hidden within the foliage of these dense and spiked plants. Christanto describes this body of work as "Beauty wounded. Something which looks so soft on the surface but hard and dark inside."
Dadang Christanto lives and works in Grevilia, NSW. For more than 35 years, Christanto's art practice has been firmly rooted in Indonesia's political history, stirred by his personal experience of the anti-communist purges in 1965-66. Encompassing sculpture, painting, installation and performance art, Christanto's deeply moving works speak to the very core of human experience.
Paula do Prado
Kaddara: Life cycles #1', 2020, Paula do Prado.
"'Kaddara' is a Hausa word meaning 'Destiny'. When I was invited to create a design for "Weaving Futures" I was immediately led to the concept of destiny. Destiny is bound to the future. As is the concept of design in this case, a plan or proposal for an object that may or may not be made. The Kaddara designs are taken from a 'woven' artwork combining crochet and coiling. Close-up sections of the original artwork were photographed and manipulated digitally for translation or potential "re-weaving" into tapestry - which would result in a double-weave of sorts. The sections seek to highlight geometrical aspects such as joints, intersections and repeated motifs in my work, such as the circle and cross where the horizontal and vertical axes intersect. These combine to also loosely reference African spiritual concepts, embodied in the Bantu-Kongo cosmogram. Although the designs are very much framed within the specificity of my experience and process, it remains open to multiple interpretations. The work is an invitation to stand at the multiple crossroads, stretching infinitely back and infinitely forward in all directions. As we shift and change, so do the paths before us. Some say there are paths that were already written. Some say we make our own luck."
Paula do Prado is a visual artist living and working on Gadigal land (Warrang/Sydney). She was born on Charrúa land (Montevideo) in Uruguay, migrating to Australia in 1986 with her parents at the age of 7. Through her practice she seeks to connect with her ancestral heritage and explore the intersections between her diverse lineages, including Bantu (West African), Spanish, Portuguese and Indigenous South American heritage.
'Kaddara: Life cycles #1', 2020, designed by Paula do Prado for the 'Weaving Futures' project at the ATW. Design courtesy of the artist.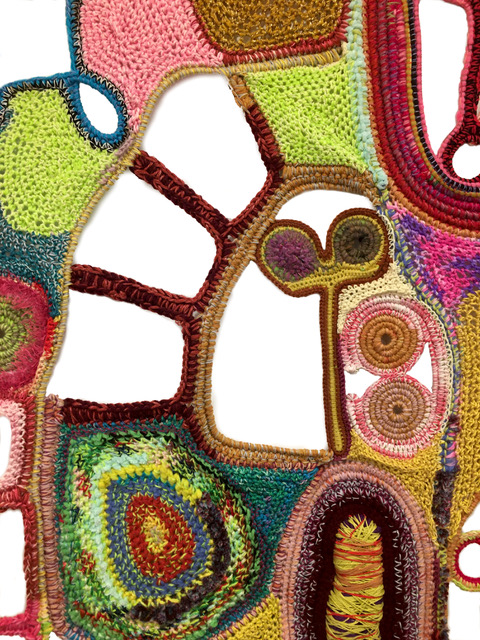 'big kangaroo urn', 2020, designed by Troy Emery for the 'Weaving Futures' project at the ATW. Design courtesy of the artist.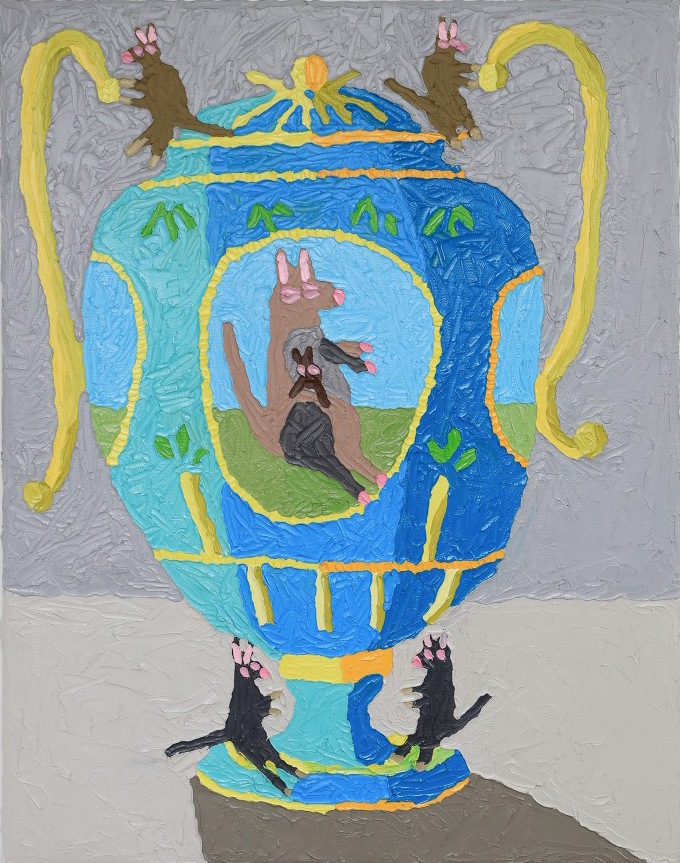 Troy Emery
big kangaroo urn, 2020, Troy Emery.
"This painting depicts a neoclassical urn with a central panel containing a kangaroo with joey. Four small kangaroo figures adorn the lid and base of the urn. The creative rationale that informs my work comes from my ongoing interest in how the history of our relationship with animals is underpinned by our ability to give meaning to them and use them in allegory and metaphor. The use of the Wedgwood-esque urn as a motif in my painting practice presents a hybrid object, one that straddles classical antiquities and domestic decorative kitsch. I'm interested in the boundaries between fine art, museums, natural history, craft, and the domestic space; and am interested in objects, particularly animals, that cross between each of these."
Troy Emery is an artist based in Melbourne and has an art practice encompassing sculpture, painting, and drawing. He works primarily with textiles in a sculptural practice to produce animal-like forms. His artwork examines the discourse surrounding the delineation between fine arts, craft, and decorative arts, as well as animals as both entrenched decorative motifs and tokens of ecological ruination.
Emily Ferretti
Sweep and Tumble, 2020, Emily Ferretti.
"My work 'Sweep and Tumble' is a landscape painting that utilises abstract motifs to represent movement in landscape. I wanted to make a very rhythmic work that follows the natural gesture of a hand movement through space. Like the tumbling of an object across a landscape, I wanted the paint line to create a natural wave that had an end point for the eye to rest. My intention was for the work to seem back-lit, creating an elemental sense of warmth. Though the landscape has abstract qualities there is a clear reference to landscape through the use of the horizon lines, organic shapes, natural colours and textures. This work was made using imagination and biographical memories."
Emily Ferretti is a painter whose figurative and abstract images derive equally from collected images, memory and the imagination. As a result her images mirror their conception, hovering between representation and abstraction.
'Sweep and Tumble', 2020, designed by Emily Ferretti for the 'Weaving Futures' project at the ATW. Design courtesy of the artist.
'The Yellowing (Structure)', 2020, designed by Teelah George for the 'Weaving Futures' project at the ATW. Design courtesy of the artist.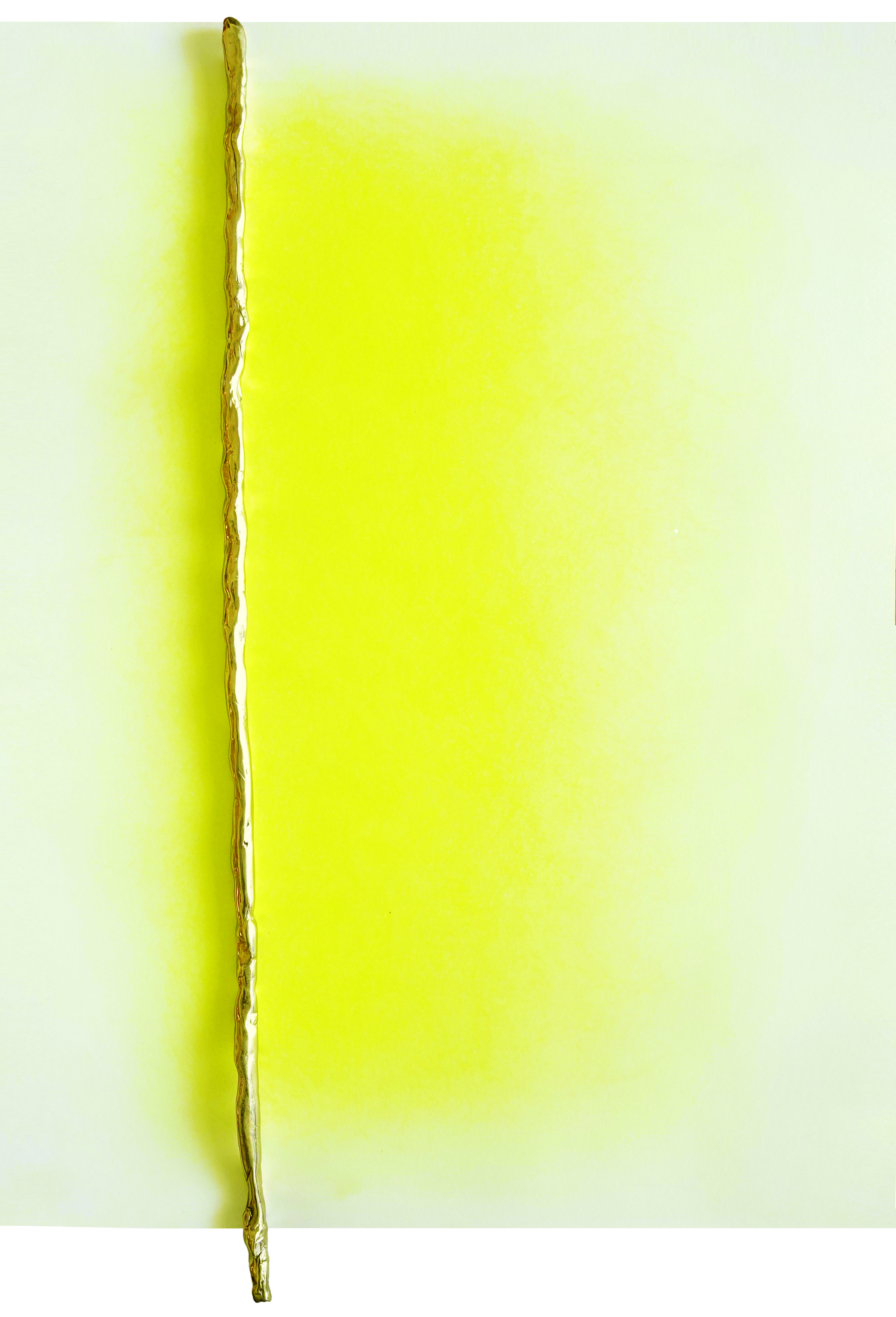 Teelah George
The Yellowing (Structure), 2020, Teelah George.
" I am interested in the physical structure of the tapestry form, as being composed by the intertwining of the warp and weft. Here, the design, a vertical yellow gradient, is embedded into the structure of the work. Like the colour choice, the title becomes a play on words, suggesting the process of yellowing, the colour change of fabric or paper material due to ageing and material volatility. Further to my exploration of the structure, the design includes bronze 'dowl' elements. These will be pierced through the tapestry, following the vertical composition of the yellowing gradient, expanding on my exploration of material relationships and time."
Teelah George examines archival information and processes as a way to unpack the relationship between narrative, representation and materiality, excavating the parallel ambiguities within historical record and visual art.
Eugenia Lim
'Future Fossils (Old Tjikko)', 2020, designed by Eugenia Lim for the 'Weaving Futures' project at the ATW. Design courtesy of the artist.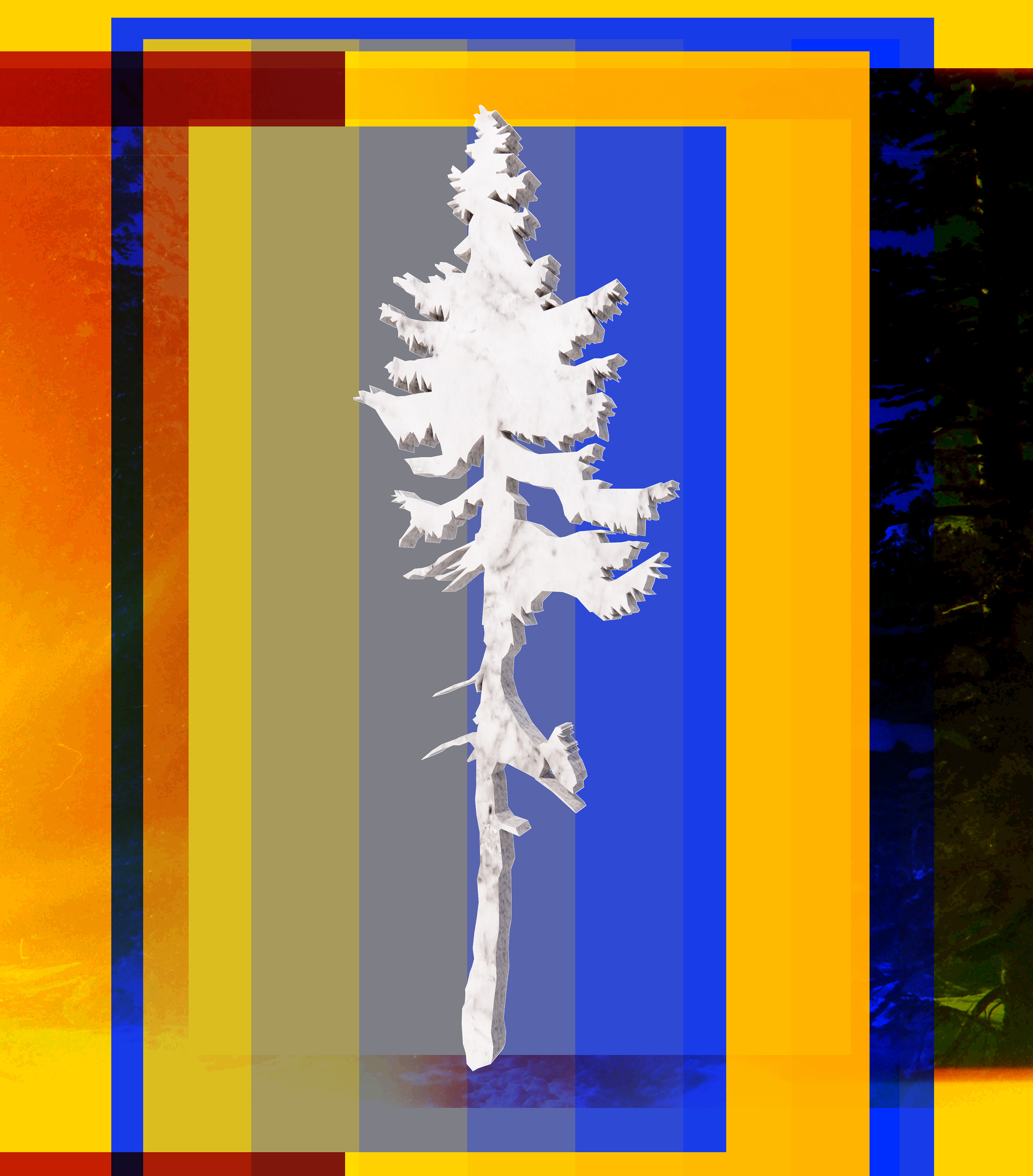 'Future Fossils (CCTV tree)', 2020, designed by Eugenia Lim for the 'Weaving Futures' project at the ATW. Design courtesy of the artist.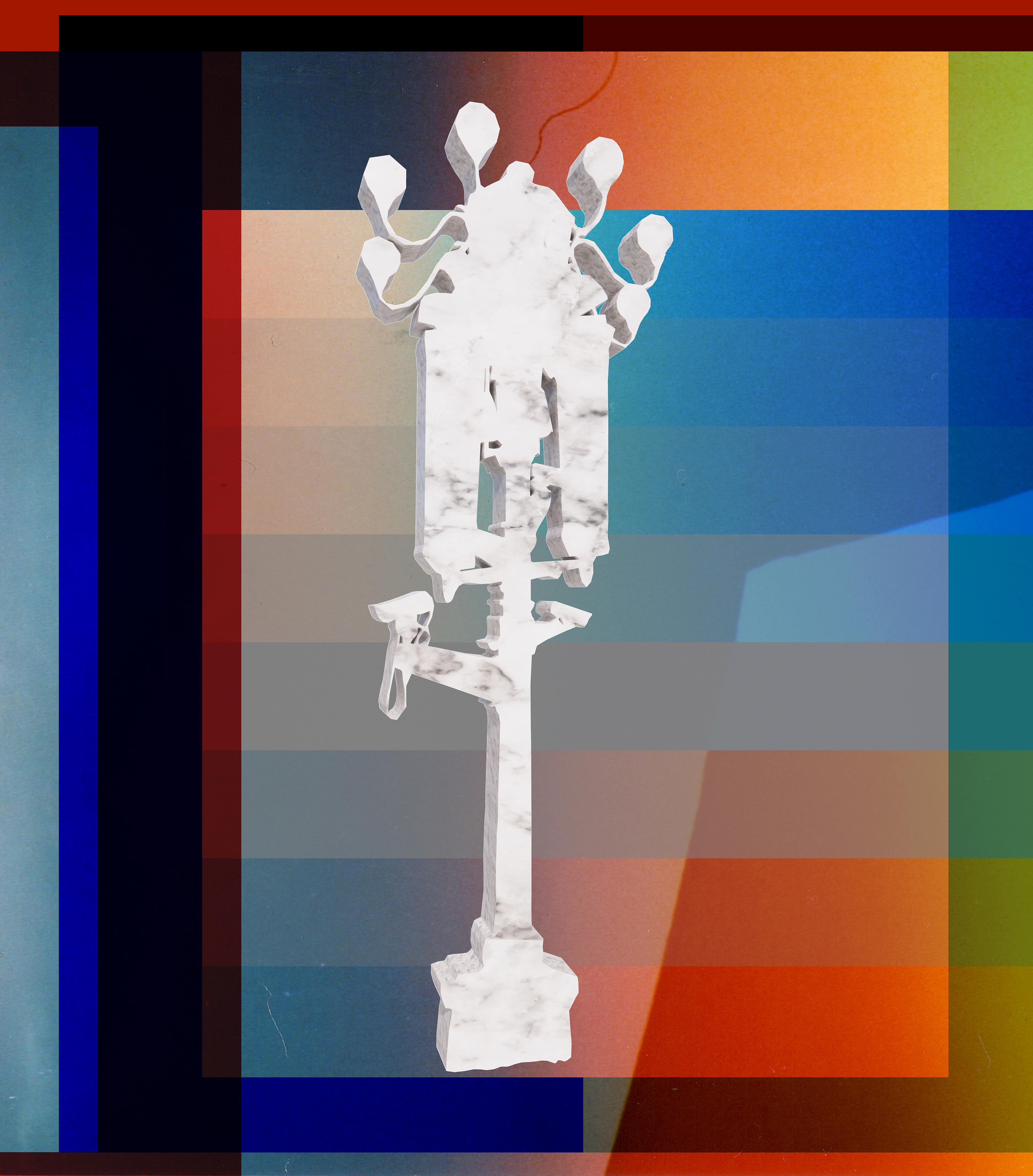 Left: Future Fossils (Old Tjikko), 2020, Eugenia Lim. Right: Future Fossils (CCTV tree), 2020, Eugenia Lim.
"These two designs fuse stock imagery, 3D hyper-real marble forms and archival analogue photos to suggest a future in which surveillance and oppression will cease to exist. Inspired by philosopher Mark Fisher (1968–2017) and his theory of 'capitalist realism', these collages were assembled during the COVID-19 lockdown in Melbourne from imagery gleaned from the internet —the living archive of the present. Time, space and epochs are conflated in this pairing: 'Future Fossils (CCTV tree)' features an imposing Beijing lamppost of surveillance cameras from Lim's own archive, while 'Future Fossils (Old Tjikko)' features Old Tjikko (a 9,500-year-old spruce thought to be one of the world's oldest living plants)."
Eugenia Lim is an Australian artist of Chinese–Singaporean descent who works across video, performance and installation to explore how national identities cut, divide and bond our globalised world.
Julian Martin
Untitled, 2020, Julian Martin.
Characterised by rich surface, Julian Martin's pastel tapestry design makes a unique visual statement. Methodical in his approach, he carefully works from photographs and arranged still life, deconstructing these references to create highly considered compositions. With his pastels evoking a strong bodily resonance, his work is a continuous reinterpretation of, and response to, form.
Julian Martin has been a regular studio artist at Arts Project Australia since 1988 and has held multiple solo shows at Arts Project Australia (in 2001, 2003, and 2014) as well as Australian Galleries (1995), Manningham Gallery (2009) and No Vacancy Gallery (2015).
'Untitled', 2020, designed by Julian Martin for the 'Weaving Futures' project at the ATW. Design courtesy of the artist.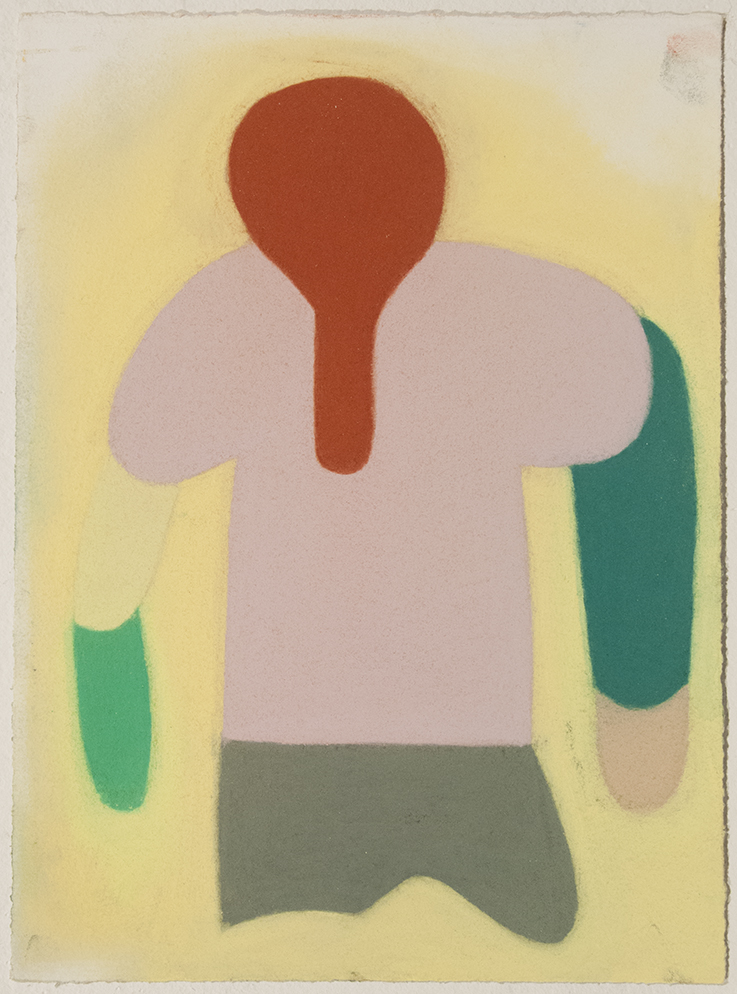 Hayley Millar-Baker
'I screamed aloud (I Will Survive)', 2020, designed by Hayley Millar-Baker for the 'Weaving Futures' project at the ATW. Design courtesy of the artist.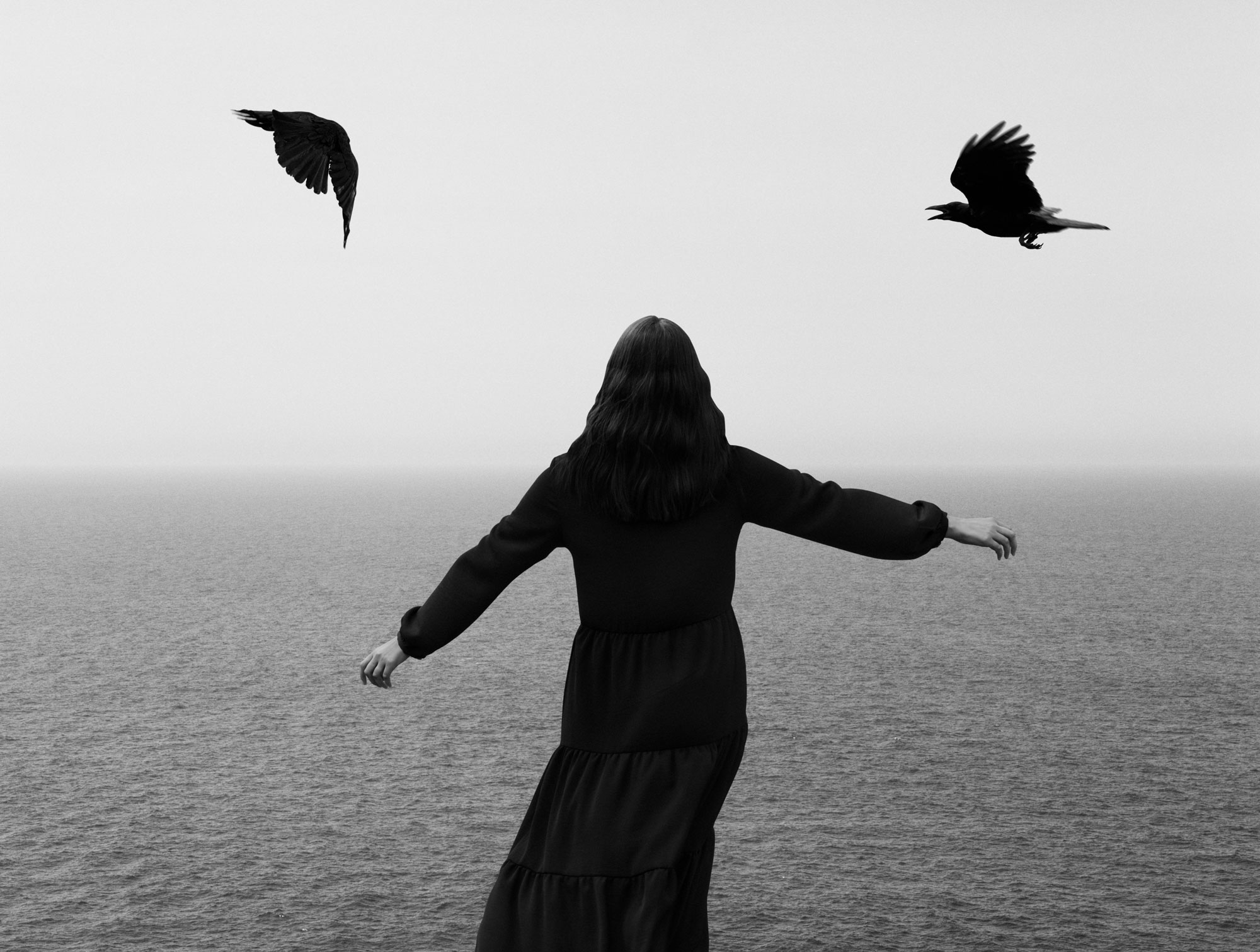 I screamed aloud (I Will Survive), 2020, Hayley Millar-Baker.
"The creative concepts I am exploring include reflections of self through memory-based recall of childhood memories. I'm fascinated with the way in which an adult reflects on memories and how those memories comprise flaws and cracks in storylines and how in turn that can manifest to reflect a past-identity. In this image, I'm recalling memories from my childhood spent alone on the coastline and the feeling of looking outwards into infinite space. However, looking back as an adult, I'm imagining my present self in the memory, while also concealing my identity so that the character could be anyone experiencing the infiniteness."
Cross-cultural artist, Hayley Millar-Baker (Gunditjmara) is a research-driven, contemporary artist based in Melbourne. Utilising her mediums of photography, multimedia, and research, Millar-Baker examines human experiences of time and memory, resulting in monochromatic photographic works — often in series that divulge her storytelling methodology.
Kent Morris
'Cultural Reflections, Up Above series, Barkindji (Broken Hill) - Little Corella' 2020, designed by Kent Morris for the 'Weaving Futures' project at the ATW. Design courtesy of the artist.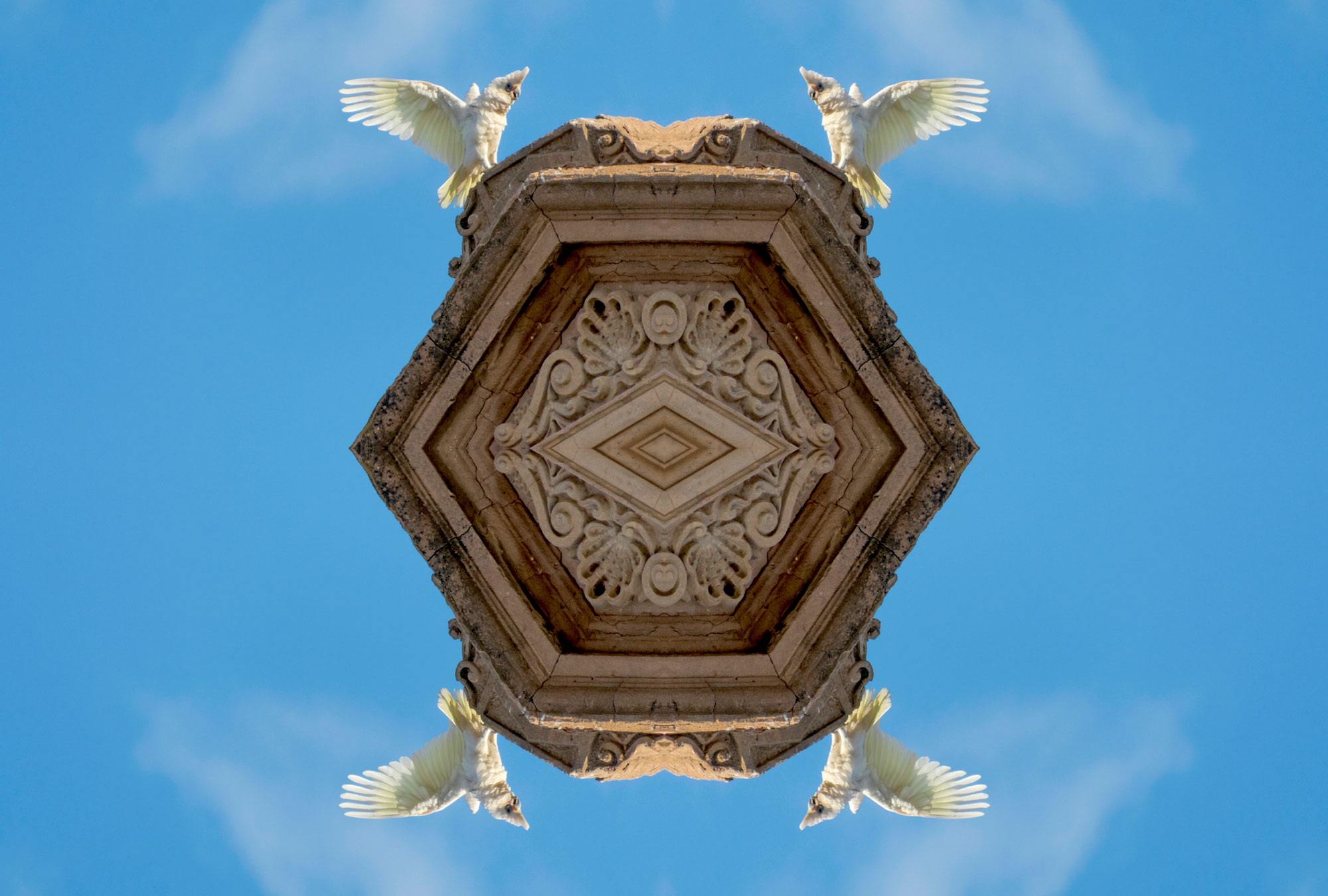 'Cultural Reflections, Up Above series, Barkindji (Broken Hill) - Little Corella' 2020, Kent Morris
"Through my artworks, the shapes of the built environment are being re-imagined and reconstructed to reflect the long history of First Nations people in this country and to reaffirm continuity, identity and connectivity. The interaction of native birds and the built environment reflects continual changes to ecological systems and the natural environment. Learning from the rhythm and habits of native birds in a variety of spaces, I experience how birds have adapted to the built environment, to technology and colonialism, reflecting the ways in which Indigenous cultures survive and adapt. In their songs and flight – which form an intrinsic part of Indigenous cultural knowledge and spirituality – I see the complexity of contemporary Indigenous experience constantly being created and revealed.
Australian native birds are some of the oldest on the planet and embody many ancestral stories and represent spirituality, continuity, adaptation and change. Many are interwoven into our daily life through their interaction with the ever-changing contemporary spaces which we inhabit. They are our ancestors, protectors and messengers. One of the central driving motivations for my practice is to increase First Nations cultural representation in the built environment, to provide a dedicated and considered public space for the exchange of stories, histories, images and insights and to give visual representation to that which is often unseen. My art practice explores identity, connection to place and the continuing evolution of cultural practices, whilst engaging audiences to question long held frames of reference. All my artworks are constructed from a single photograph taken while walking on Country."
Kent Morris is an artist and curator of Barkindji and Irish heritage living on Yauk-ut Weelam Country in Melbourne. Morris also leads The Torch, a not for profit organisation that provides art, cultural and arts vocational support to Indigenous offenders and ex-offenders in Victoria through its Indigenous Arts in Prison and Community Program which he began in 2011.
Britt Salt
Paramanifold (detail), 2020, Britt Salt.
When speaking of the works created for 'Weaving Futures', Salt acknowledged that "these artworks, like my practice, hover between art and architecture; an ongoing experiment where geometry is tested, and spatial axioms such as line, form and space are honed by a monochrome palette. I use a myriad of process-driven techniques to draw, fold and weave spaces that gently shift with the viewers' movement and interaction. Sometimes capturing this experience through photography, I search for views that transcend the object in front of me and imagine a new architectural world. One of visual illusion and interplay between opposing elements; light and shade, chaos and order, opacity and transparency, movement and stillness. As these binaries intersect, an in-between space comes forth to be perceived as an entity."
Britt Salt's work has attracted prestigious awards such as the Art & Australia/ Credit Suisse Private Banking Emerging Artist Award (2013) and the Freedman Foundation Travelling Scholarship for Emerging Artists (2010). Significant achievements include receiving Highly Commended at the Kate Derum Award (2019), selection as a finalist in the Darebin Art Prize (2019) and Paramor Prize (2017) as well as numerous international residencies in France, UK, China, Japan, Finland and Iceland.
'Paramanifold (detail)', 2020, designed by Britt Salt for the 'Weaving Futures' project at the ATW. Design courtesy of the artist.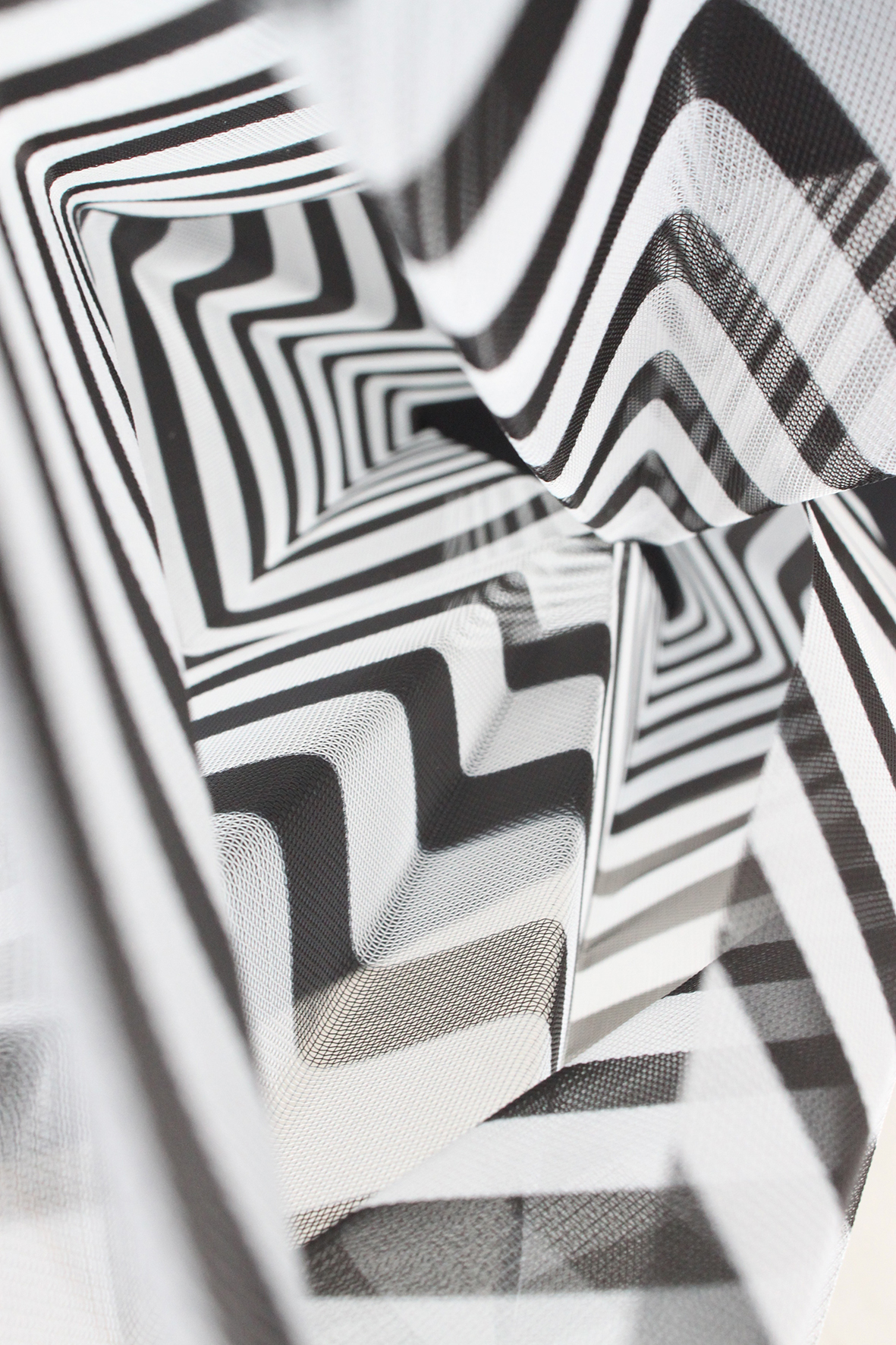 'Komorebi', 2020, designed by Sera Waters for the 'Weaving Futures' project at the ATW. Design courtesy of the artist.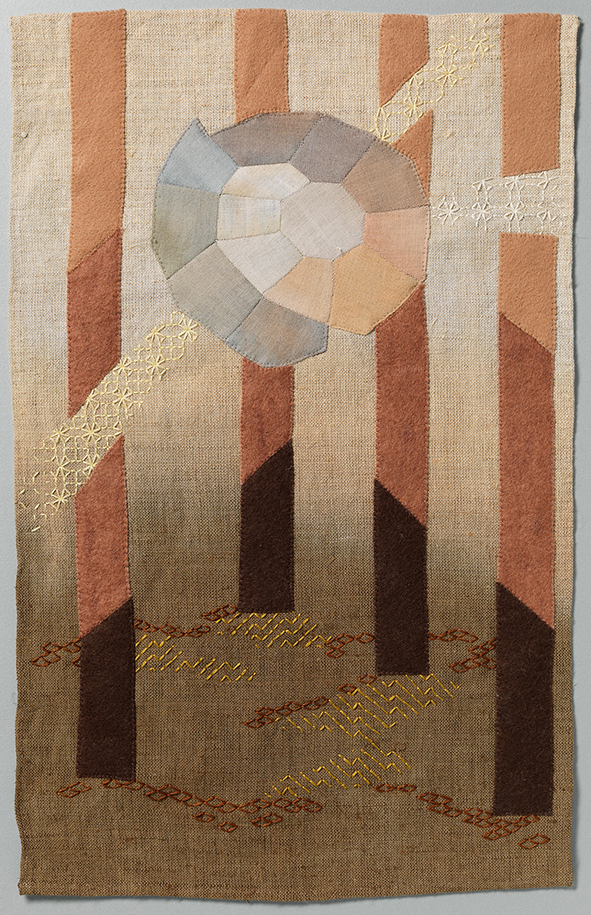 Sera Waters
Komorebi, 2020, Sera Waters.
"The most pressing concern in my current art practice is discovering, reawakening and sustaining the important knowledge housed within traditions. My research particularly explores textile, domestic and home-craft traditions and argues they contain knowledge which can be utilised to make shifts to veer away from climate catastrophe. In this series of artworks I have sought connective threads between pulsating ecologies and generations-old textile traditions. As a result these three artworks discover that home-craft textile traditions like dyeing, quilting, applique and embroidery are not only tendencies toward repurposing and handmaking; the rhythms, patterns, and sustaining paces of these practices are aligned with forces of nature, so integral to meaningful survival. When stitching I reflect on how humans have thrived by tuning into the rhythms of living organisms and environments, listening and noticing, and have myself prioritised these connections. Each of these artworks has grown from daily walks and photographs in my own archive, further developed and translated through practice and material play.
As the titles of these artworks suggest, each centres around astral motifs, translating rhythms of the day, of light and the movement of the sun into rhythms and patterns of stitch. Australian light, such as the summer glare, or in this series the watchful moon in the blue sky of day, sunbeams coming through trees, or the lowering ambience of a setting sun, are continuing explorations in my practice and I reconsider this motif across Australian art history as melancholic, nostalgic, and of new beginnings. 2020 is undoubtedly a challenging year in a troubling period, and a pertinent time to question problematic histories, current actions and future trajectories. As an artist with settler colonial ancestry living upon colonised Country, it is also necessary to acknowledge that not all traditions have served well, nor are my inheritance. The domestic and textile traditions I invoke are intentionally those imported to Australian shores, passed along family lines, and which when redirected start to recognise and begin a process of redressing the great damages of settler colonisation."
Sera Waters is an Adelaide based artist, arts writer and academic. Since being awarded a Ruth Tuck Scholarship in 2006 to study hand embroidery at the Royal School of Needlework (UK), Waters' art practice has been characterised by a darkly stitched meticulousness. Her embroideries and hand-crafted sculptures dwell within the gaps of Australian histories to examine settler-colonial home-making patterns and practices, especially her own genealogical ghostscapes.